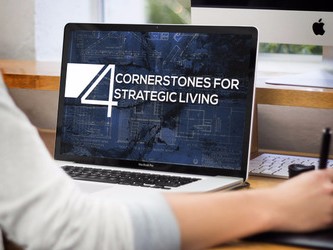 T
he 4 Cornerstones For Strategic Living is the foundation for everything we do at BrianHolmes.com and the Strategic Living Institute. We believe every person is created by God with a unique and special design. Further, we believe there is something significant and meaningful you are destined to accomplish in your lifetime. No matter your age, gender, ethnicity, or religious background, you can know true success, and make a difference in your world.
This course is about developing a strategy for living your very best life. You will learn a powerful framework, and the specific process we recommend for building your life … strategically. In this course, we will share with you the 4 Cornerstones for Strategic Living, and how each of them impact your life … TODAY.
There are 5 videos in this series. The first is an introduction to the concept of Strategic Living, and an overview of the course. Videos 2 through 5 go into greater detail about each of the 4 cornerstones.
Take action today! Decide that you will take your life and leadership to the next level.